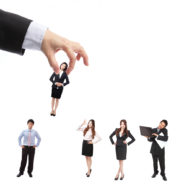 Ensuring a positive future requires courageous leaders who make difficult decisions—especially concerning employees and staff. These leaders look beyond the impact of today to what is best for the organization long-term. In fact, one of the greatest challenges leaders face is waiting too long to make staff changes.
read more
Rather than constantly looking for and adding new products and services, smart leaders eliminate what is nonessential and focus attention on what is most valuable to their organizations and teams.
read more
If you have a major initiative or project, it's a good bet that there is unanticipated work beneath the surface that will add substantially to the schedule and resources it will take. If your team is stretched at the beginning of a new project, it will most likely become worse as things progress. Click below for more information on setting and acting on strategic priorities.
read more
Without the courage to take risks, few would achieve high levels of success. While most executives believe that risk-taking is good, they often communicate that failure is bad. This dichotomy confuses employees. Click below for more thoughts on this.
read more