Pay It Forward!
We, at Innolect are committed to finding ways to serve and give back to the communities in which we work and live.  We give a percentage of our profits to nonprofits that offer thoughtful and intentional approaches to community development.
The Innolect Sustainable Legacies Award was created to honor an organization that promotes volunteerism and sustainable social responsibility. Our passion is to inspire organizations and volunteers to give back to the communities in which they live and work. Initially, we highlighted organizations, individuals and clients who made significant contributions to nonprofits within their own communities and the broader world. We showcased these efforts in the "Pay It Forward" section of our Innolect Ports, articles and books. Then, in 2015, the Innolect team suggested that we also establish an annual award to recognize the organization whose efforts created the greatest positive change in the world.
To make a submission, click here.
[tabs slidertype="left tabs" fx="fade"]
[tabcontainer][tabtext]Sole Hope[/tabtext]
[tabtext]Habitat for Humanity[/tabtext]
[tabtext]Trees for Life[/tabtext]
[tabtext]Samaritan's Feet[/tabtext]
[tabtext]Ronald McDonald House[/tabtext]
[tabtext]World Vision[/tabtext]
[tabtext]Heifer International[/tabtext]
[tabtext]Bit of Hope Ranch[/tabtext]
[tabtext]Edge Connection[/tabtext]
[/tabcontainer] [tabcontent] [tab]
Organize a Sole Hope Event!
Sole Hope exists to offer hope, healthier lives and freedom from foot related diseases through education, jobs and medical relief.  By not wearing closed-toed shoes, thousands of Ugandan children and adults alike are becoming gravely ill with infection, gangrene, paralysis, and occasionally amputation and even death. Sand flea parasites called jiggers burrow into bare feet and rob the body of the little nutrition it has. Many are unable to attend school because their feet have been so badly mutilated.
A graphic, heartbreaking YouTube video exposed the truth about jiggers to Sole Hope founder, Asher Collie. You can host a Sole Hope event where participants prepare the materials that are then shipped to Africa and used to make Sole Hope shoes for village children in the Busoga region.
[/tab]
[tab]
Donate to Habitat for Humanity
Habitat for Humanity of York County (South Carolina) empowers families to achieve financial stability and community sustainability through affordable home ownership solutions. Through funding and volunteer support from the community we work in partnership with qualified families to create or preserve safe, decent affordable homes.
[/tab]
[tab]
Donate through Samaritan's Feet
10 million pairs of shoes on the feet of 10 million children in the next 10 years — This is the clear and straightforward mission of Samaritan's Feet as nearly 300,000,000 people go without shoes each day… and not by choice, and nearly 1,000,000 die each year as a result of foot-borne illnesses that may be preventable by simple protection — shoes.
[/tab]
[tab]

Donate through Ronald McDonald House
Many families travel far from home to get treatment for their seriously ill or injured children. Often, it can be a long time to be away from home, or to divide a family. And, for children facing a serious medical crisis, nothing seems scarier than not having their mom and dad close by for love and support.
[/tab]
[tab]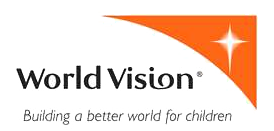 Donate through World Vision
World Vision is a Christian humanitarian organization dedicated to working with children, families, and their communities worldwide to reach their full potential by tackling the causes of poverty and injustice.
"Copyright 2006 World Vision Inc. All rights reserved. Used with permission. 1-888-511-6548 http://www.worldvision.org"
[/tab]
[tab]
Donate through Heifer International
Heifer's mission is to work with communities to end hunger and poverty and care for the earth. By giving families a hand-up, not just a hand-out, Heifer empowers them to turn lives of hunger and poverty into self-reliance and hope.
[/tab]
[tab]
Bit of Hope Ranch!
Bit of Hope Ranch reaches, rescues and restores hurting children, families and horses through counseling and educational programs. The horse is a valuable part of the healing process for many children that have experienced trauma and/or neglect. Our licensed therapists are trained to help the child foster healthy relationships with the horses based on trust, respect and boundaries. The clients take these skills back to their homes, school and work so they can begin to overcome destructive, painful patterns.
Your donations ensure that our horse partners and facility are equipped to handle the children and families that come through our gates. Donate securely online and contact us for more information.
Click to Visit Bit of Hope Ranch!

[/tab]
[tab]


The organizations below are known for developing healthy, community-driven programs that produce deep, measurable and lasting change for people in need at home and around the globe.  Please join us as volunteers and by selecting one of our favorite causes, or one of yours and pay it forward.
Get Connection!
[/tab]
[/tabcontent] [/tabs]