"Enterprising Women" Magazine
Chec
k-out the new article published in September, "Build Your Leadership Team" by Kittie W. Watson.  The article is geared to entrepreneurs and ways to assess whether or not the team that got them to where they are today will be the same team to move them to a sustainable future. September issue – Vol. 16, Number 3 – 2015.
"Enterprising Women" Magazine
Innolect's President Kittie W. Watson's article, "The Executive Selection Process: Selecting and Keeping the Best Talent," was published in the March issue – Vol. 16, Number 1 – 2015.
http://online.enterprisingwomen.com?shareKey=xLAsoG
Business Success Extravaganza 2015!  www.wsoctv.com
Kittie W. Watson, Ph.D. — President and Founder of Innolect, serves corporations nationwide to grow leaders and build high performance teams through company assessment, workshops and coaching. The author of 15 books, Kittie is a strong supporter of women in business, traveling and speaking on behalf of the Greater Women's Business Council in NC, SC and GA, in addition to running Innolect.  She has much to teach us about personal and team development best practices for sustainable business. Her keynote presentation, "Build Your Leadership Team: The right people. The right people. The right place. The right time.
INNOLECT's Kittie Watson is named a "2015 Women's Business Enterprise Star" by Women's Business Enterprise National Council
Honored before 1,500 at "Salute to Women's Business Enterprises"
March 2015 -Kittie W. Watson, Ph.D. and President of Innolect Inc., the global leadership and organizational development firm, will receive the nation's premier award for excellence among women's business enterprises (WBEs) bestowed by the Women's Business Enterprise National Council (WBENC) at its Salute to Women's Business Enterprises. The gala will take place March 19, 2015, is the concluding event to WBENC's annual Summit & Salute convening more than 1,500 corporate and government executives, WBEs and members of WBENC's Regional Partner Organizations (RPOs) at the Baltimore Marriott Waterfront. 
Watson was recognized for her business accomplishments, her inspiration to other women, and her active role at the helm of Innolect. She was selected for this national honor by the Greater Women's Business Council (GWBC) one of WBENC's 14 RPOs that process WBENC's world-class certification of WBEs, in addition to providing skills-building educational programs and business development opportunities in their regions. GWBC's 15th anniversary is in April, and the organization will be celebrating all year.
ART at Work: Collaborate + Innovate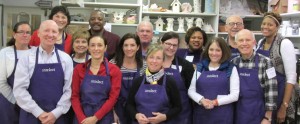 Adapt ● Respond ● Transform
 December 2014 -The Innolect Community experimented with Innolect's latest Excursion Learning event, Art at Work. Collaboration requires team members to look beyond themselves and work toward a common goal. Since many "artists" or team members find it difficult to invite others into their creations, art provides the ultimate test for putting egos asidefor the greater good. In most cases, art is an individual process that rarely welcomes the inclusion of others who may not share the same artistic vision. Yet, for team members who need to gain the most from working collaboratively, creating art collaboratively offers a powerful learning experience. Our process demonstrates the benefits of genuine collaboration when the outcome truly belongs to everyone on the team. Teams learn to communicate, collaborate and adapt to change in a dynamic, energizing environment.
Kittie Watson wins 2014 LACE
2014 Greater Women's Business Council LACE Awards
"Volunteer of the Year" award from Greater Women's Business Council (GWBC)
At the annual LACE (Ladies Achieving Continuous Excellence) Awards banquet held in Atlanta on November 14th, Kittie Watson was awarded the WBE Advocate of the Year award for her outstanding work as a leadership contributions for woman-owned enterprises.  Check out the other GWBC winners and their accomplishments at the GWBC website.
Becky Ripley, Innolect's Sustainable Legacy℠ Practice Leader, and Kittie Watson, Innolect's President, had their article, "We're Learning: Are You Listening?" published in the May 2014 issue of Chief Learning Officer Magazine.
GWBC TOP Corporation Awards
May 2014. Atlanta, GA. The Greater Women's Business Council (GWBC), a regional partner organization to the Women Business Enterprise National Council (WBENC) presented the Top Corporation Awards today. Kittie W. Watson, President, Innolect Inc, 2nd Vice Chair and Voice Committee Chair, presented the awards. 2014. https://gwbc.biz/
Gallery 24Seven donates painting by featured artist, Kittie Watson, to Junior Diabetes Foundation
Saturday, April 19th, in Birmingham Alabama, the Junior Diabetes Research Foundation (JDRF) held "The Gatsby Gala", or " Night of  foundation/#ixzz30fae95tS   Hope" fundraiser. It was a successful and moving evening for all present. Gallery24seven was on had to donate a beautiful watercolor painting by gallery artist Kittie Watson, titled "God's Global Community."
Read more: http://blog.gallery24seven.com/gallery24seven-donates-painting-to-junior-diabetes-foundation/#ixzz30fmsSYQg
Kittie Watson interviewed on Today's Inspiring Women
Listen UP! and Give Fear a Knockout Punch Are you aware of the power of leading by listening? Dr Kittie Watson, the CEO of Innolect over 25 years has been recognized as the International listening expert. Kittie often serves as an expert witness, is a media regular and has been featured on ABC's 20/20. Dr. Watson will discuss how to be an effective leader by being a better listener. She will discuss the top 5 bad listening habits leaders make as well tips on how to be more successful in listening. Our second guest , Jana Flaig, is a women who has faced fear in the face when she was diagnosed with ovarian cancer, and gave it a knock out punch. This former TV News On-Air Reporter shares her story of challenging her battle with fear. She'll provide some practical tips to knock out fear that can discourage us, diminish our faith and rob us of hope as we go through tough times or hardship.     Listen to the interview.
"Enterprising Women" Magazine
Innolect's President Kittie W. Watson wrote "Is Coaching Right for You?" To download:  Is Coaching Right for You (Enterprising Women Magazine)
Becky Ripley Awarded Grant for Sustainable Legacy Research
Innolect's Sustainable Legacy lead, Becky Ripley, was awarded a grant from The Institute for the Study of Intrapersonal Processes to support research that will investigate current and possible best practices to help corporations and nonprofit organizations partner to build leadership talent.
GWBC Elects Kittie Watson Vice Chair
The Greater Women's Business Council (GWBC), a regional partner organization to the Women Business Enterprise National Council (WBENC) elected Kittie W. Watson, President of Innolect, to the office of 2nd Vice Chair for 2014. http://gwbc.biz/
Innolect tests its "Horsepower"
The Innolect team visited Rosehill Stables in Monroe, NC to check out our "horsepower" and sample our own excursion learning type of experience.  It seems that horses are quietly becoming a great way for executives to learn about their presence and leadership style. Horses require their leaders to be clear in their communication, consistent with what they are asking, calmly assertive, and constantly attentive. In the workshop, participants' body language gets mirrored to them by the horses, revealing  behaviors, emotional responses, coping mechanisms, and how leaders are most likely perceived by other people, particularly co-workers. Horses show participants the skills required in knowing who they are, finding their position in the "herd" and being truly confident in their professional life. Using "your horse is your mirror", we experienced various exercises  designed to bring out our leadership abilities. We were encouraged to experientially learn what kind of reflection is created with our own behaviors, both vocal and non-vocal.  Our own experience will be used to refine our design for an excursion learning package Innolect will be offering to executive coaching clients as part of their executive presence and leadership development plan.
Kittie Watson wins LACE
"Advocate of the Year" award
from Greater Women's
Business Council (GWBC)
At the annual LACE (Ladies Achieving Continuous Excellence) Awards banquet held in Atlanta on November 7th, Kittie Watson was awarded the WBE Advocate of the Year award for her outstanding work as a leadership mentor and advocate for woman-owned enterprises. Kittie joins Louise Connell of BMW who was named the corporate advocate of the year.  Check out the other GWBC winners and their accomplishments at the GWBC website.  See more…
Innolect Hammers Habitat for
Humanity's Women's Build
Habitat for Humanity of York County held a Women Build Workday at a home on Crawford Road in Rock Hill. Becky Ripley with Innolect, Inc. works on the Habitat house framing. Read more…