"Learning How to Grieve As An Entrepreneur"  is a feature in the
April/May WBENC President's Report . Unfortunately, Kittie had some recent experiences she utilized as learning tools that she hopes other entrepreneurs can learn from to prepare for the inevitable grief everyone must face at some point.
"Make the Essential What Gets Done", written by Kittie W. Watson and Becky Ripley, was published in the Fort
Jackson Journal's May 2017 issue.
Are the things you are checking off your task list actually priorities? Are they essential to your work? When everything is a priority, actually nothing is a priority. Kittie and Becky address actions you can take to clarify and act on priorities.
"Effective Listening: Five Lessons from the Best", written by our President and Founder, Kittie W. Watson, Ph.D., was published in the Journal of Christian Nursing's July/September 2017 issue.
For many nurses, especially when workloads are high, it can be difficult to listen carefully to patients. Federally mandated Hospital Consumer Assessment of Healthcare Providers and Systems (HCAHPS) surveys that help determine insurance reimbursement are asking patients how carefully their nurses listened. For Christian nurses, effective listening demonstrates the compassion, understanding, and care modeled by Jesus. An exploration of Jesus' responses reveals five ways Christ effectively listened to people that can guide nurses.
"Enterprising Women" Magazine
Chec
k-out the new article published in September, "Build Your Leadership Team" by Kittie W. Watson.  The article is geared to entrepreneurs and ways to assess whether or not the team that got them to where they are today will be the same team to move them to a sustainable future. September issue – Vol. 16, Number 3 – 2015.
"Enterprising Women" Magazine
Innolect's President Kittie W. Watson's article, "The Executive Selection Process: Selecting and Keeping the Best Talent," was published in the March issue – Vol. 16, Number 1 – 2015.
http://online.enterprisingwomen.com?shareKey=xLAsoG
Business Success Extravaganza 2015!  www.wsoctv.com
Kittie W. Watson, Ph.D. – President and Founder of Innolect, serves corporations nationwide to grow leaders and build high performance teams through company assessment, workshops and coaching. The author of 15 books, Kittie is a strong supporter of women in business, traveling and speaking on behalf of the Greater Women's Business Council in NC, SC and GA, in addition to running Innolect.  She has much to teach us about personal and team development best practices for sustainable business. Her keynote presentation, "Build Your Leadership Team: The right people. The right people. The right place. The right time.
INNOLECT's Kittie Watson is named a "2015 Women's Business Enterprise Star" by Women's Business Enterprise National Council
Honored before 1,500 at "Salute to Women's Business Enterprises"
March 2015 -Kittie W. Watson, Ph.D. and President of Innolect Inc., the global leadership and organizational development firm, will receive the nation's premier award for excellence among women's business enterprises (WBEs) bestowed by the Women's Business Enterprise National Council (WBENC) at its Salute to Women's Business Enterprises. The gala will take place March 19, 2015, is the concluding event to WBENC's annual Summit & Salute convening more than 1,500 corporate and government executives, WBEs and members of WBENC's Regional Partner Organizations (RPOs) at the Baltimore Marriott Waterfront. 
Watson was recognized for her business accomplishments, her inspiration to other women, and her active role at the helm of Innolect. She was selected for this national honor by the Greater Women's Business Council (GWBC) one of WBENC's 14 RPOs that process WBENC's world-class certification of WBEs, in addition to providing skills-building educational programs and business development opportunities in their regions. GWBC's 15th anniversary is in April, and the organization will be celebrating all year.
ART at Work: Collaborate + Innovate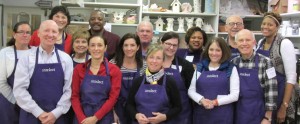 Adapt ● Respond ● Transform
 December 2014 -The Innolect Community experimented with Innolect's latest Excursion Learning event, Art at Work. Collaboration requires team members to look beyond themselves and work toward a common goal. Since many "artists" or team members find it difficult to invite others into their creations, art provides the ultimate test for putting egos asidefor the greater good. In most cases, art is an individual process that rarely welcomes the inclusion of others who may not share the same artistic vision. Yet, for team members who need to gain the most from working collaboratively, creating art collaboratively offers a powerful learning experience. Our process demonstrates the benefits of genuine collaboration when the outcome truly belongs to everyone on the team. Teams learn to communicate, collaborate and adapt to change in a dynamic, energizing environment.
Kittie Watson wins 2014 LACE
2014 Greater Women's Business Council LACE Awards
"Volunteer of the Year" award from Greater Women's Business Council (GWBC)
At the annual LACE (Ladies Achieving Continuous Excellence) Awards banquet held in Atlanta on November 14th, Kittie Watson was awarded the WBE Advocate of the Year award for her outstanding work as a leadership contributions for woman-owned enterprises.  Check out the other GWBC winners and their accomplishments at the GWBC website.
Becky Ripley, Innolect's Sustainable Legacy℠  Practice Leader, and Kittie Watson, Innolect's President, had their article, "We're Learning: Are You Listening?" published in the May 2014 issue of Chief Learning Officer Magazine.
GWBC TOP Corporation Awards
May 2014. Atlanta, GA. The Greater Women's Business Council (GWBC), a regional partner organization to the Women Business Enterprise National Council (WBENC) presented the Top Corporation Awards today. Kittie W. Watson, President, Innolect Inc, 2nd Vice Chair and Voice Committee Chair, presented the awards. 2014. https://gwbc.biz/
Gallery 24Seven donates painting by featured artist, Kittie Watson, to Junior Diabetes Foundation
Saturday, April 19th, in Birmingham Alabama, the Junior Diabetes Research Foundation (JDRF) held "The Gatsby Gala", or " Night of  foundation/#ixzz30fae95tS   Hope" fundraiser. It was a successful and moving evening for all present. Gallery24seven was on had to donate a beautiful watercolor painting by gallery artist Kittie Watson, titled "God's Global Community."
Read more: http://blog.gallery24seven.com/gallery24seven-donates-painting-to-junior-diabetes-foundation/#ixzz30fmsSYQg
Archived News