Senior Consultant / Leadership Coach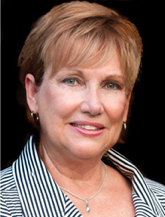 Gerri Steadman, has over 20 years of experience in leadership development and coaching to propel performance beyond expectations, strengthen important business relationships, prepare for current role expansion or promotion, and make sound organizational transitions. Serving as a senior leader, Gerri brings expertise in human resource management, leadership development and organizational development.
With practical, in-depth understanding of the challenges leaders and managers face each day, Gerri is resourceful, direct and meets clients "where they are." Focused on development and stages of adult development, she is passionate about finding ways to "grow people" and help senior leaders and managers develop the capability and effectiveness "to be their best." She offers insights and assists leaders to attain skills to pivot quickly so they can navigate the complexity and rapid change demanded in current work environments.
As a career development expert, she understands that development is an on-going process. She helps leaders pro-actively and intentionally build new assets and explore areas for continued growth in both their current roles and transitioning into new ones. Gerri is described as having "a strong sense of self, a great sense of humor, a strong business and results focus, and excellent listening skills. She can get provocative when it is most needed and balance it with support, which is a tremendous gift."
Creative and innovative, Gerri applies her passion for horses and Equine-Assisted Learning (EAL) expertise, to grow leaders and teams. She has developed Excursion Learning(sm) programs such as "Executive Presence: Discover Your Horse Power," "Collaboration & Trust" and "Change & Transitions" to achieve leadership and team breakthroughs and sustainable change back at the workplace.
Gerri holds a Master's degree in employment relations and a Bachelor's degree in psychology from the University of Cincinnati. She is credentialed as a Senior Professional in Human Resources (by SHRM) and to use various assessment tools and instruments. Committed to giving back, Gerri leads a volunteer, community-based career development program for individuals in need of job-seeking and career transitions.
J.L. – HR Leader – Ingersoll Rand
"Gerri is a visionary leader with impeccable integrity, high energy and contagious enthusiasm! Her corporate background and current consulting/coaching position make her a perfect partner to any company. Gerri increases a business bottom line by quickly and effectively assessing a person's skill and has a natural talent to recognize how to coach a person in each area for improved and sustainable results."
G.D., Marketing, Disney
"Gerri is a consummate profession who delivers results. She is an expert problem solver and has a cache of tools to bring into tough situations as needed. She is able to work with the individual and their entire team to bring solutions to the dynamic ever-changing workplace in a strategic and effective manner."
SM, Sales Executive, IBM
"Gerri's skills as an Executive Coach are exemplary. Her strongest skill is her ability to be 100% present in a conversation and create a conversation for action. I always walked away from my time with Gerri thoughtful and more in touch with areas I needed to focus on for improvement. I wholeheartedly recommend Gerri; she is just outstanding as a person and as a professional."
E.G., former Marketing VP, IBM
"Gerri has a strong sense of self, a great sense of humor, a strong business and result focus, and excellent listening skills. She can get provocative when it is most needed and balance it with support, which is a tremendous gift."