Supplier Diversity Practice Leader & Senior Consultant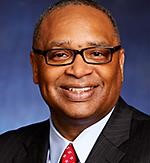 Jerry Fulmer, Senior Consultant and Supplier Diversity Practice Leader Innolect Inc., has over 30 years of expertise in procurement, managing human capital, as well as fostering corporate relationships with suppliers and contractors, area businesses, regulated entities as well as local and state governments. His strategic efforts within business communities facilitate proactive, mutually beneficial relationships with business advocacy groups as well as businesses owned and operated by women, minorities, veterans and service-disabled veterans.
With deep experience in the utility and energy industry, Jerry retired as Vice President of Supplier Diversity for WEC Energy Group, one of the nation's largest electric generation and distribution and natural gas delivery holding companies in the Midwest. Under his leadership Jerry designed and implemented successful supplier diversity programs in six utility subsidiaries business units. He trained teams of employees how to achieve goals through better business and procurement practices. In addition, he played a key role in helping We Power, a Wisconsin Energy Corporation subsidiary, achieve the supplier diversity goals outlined in the corporation's 10-year growth plan – Power the Future. Prior to WEC Energy Group, he worked with Progress Energy (now Duke Energy) and Niagara Mohawk Power Corporation (now National Grid) in business development and as a supervisory buyer.
His leadership has been nationally recognized. Jerry chaired the Edison Electric Institute's (EEI) supplier diversity executive committee and acted as liaison to small businesses. He also was Chair of the North Central Minority Supplier Development Council.
His leadership and impact have been recognized by diverse supplier advocacy organizations across the United States. His national honors include being named one of America's Top 100 Leaders in Corporate Supplier Diversity by Women's Enterprise USA, Top 75 Leading Men in Corporate Supplier Diversity by MBN USA magazine, Outstanding Men of Minority Business Development, Minority Business News USA and Edison Electric Institute's (EEI) Supplier Diversity Executive Committee Award. Regionally, his numerous awards throughout the Midwest include Supplier Diversity Lifetime Achievement Awards, Corporate Support and Excellence Awards.
Jerry earned a bachelor's degree in economics from Hartwick College in Oneonta, New York. Now living in Raleigh, North Carolina, he serves on various local, state, regional and national committees that promote minority, women & veteran-owned business development and advocacy.